Artifact uprising promo code-a craft blog by elise blaha cripe
<![CDATA[
enJOY it by Elise Blaha Cripe
simple baby shower invites.
So many of my girlfriends are expecting babies this fall (four out of my six bridesmaids have/will deliver in 2015). We are using one of them as an excuse to have a quick college reunion/couple's shower.

Per usual, invites were unnecessary (flights have been booked, plans have been made) but these simple invites are so fun for me to make.

And since we don't know the gender AND it's going to be super casual, I got to get a bit outside the "baby" theme and instead went with a "growing" theme which was really just an excuse to use these amazing plant icons. HOW CUTE ARE THOSE?! I tucked the family initials into the pots and left one as a question mark to represent the new little one. Other fonts used are Fenwick Outline and Futura Medium.

We needed just a few and I printed 4 to a page onto white textured cardstock and tucked into kraft envelopes. Easy as always, but who doesn't love mail?
week in the life album progress.
I realized last night I'm not going to get this album finished by the end of this week but I wanted to share an update since I said I would. I snapped these photos outside since the light was fading, apologies that they came out sort of strange.

I took SO FEW photos. Maybe 20 on the "good" days and closer to six on the other days. It is what it is. Monday was the best with photos and so that day is pretty much done.

I am relying heavily on the cards from the kit to help fill the space.

That's sort of fun though. I'm glad to do some journaling again and the thoughts are the stuff that's easier to forget for me.

I'm also tucking in little bits from our week like business cards and the band-aids Ellerie's obsessed with.

The rainbow quilt is getting a decent focus, mostly because I was taking so many photos of it 😉

And any excuse to print more candid photos is a win. As you can see – lots of blank space to still fill in and I would love to add more embellishments. For the most part, the writing is all done, I just need to commit and get the photos all printed out.

It's a busy season, but I am glad I am taking the time for this project. If you're interested in Week in the Life, you can learn more here!
toddler favorite things book.
Ellerie LOVES books. We're getting to the good part too – when she will actually SIT and LISTEN to a full story from beginning to end (I used to have to cliff notes the story in order to keep up with her attention span). She also likes to "read" them to us too. My favorite part of that experience is how her inflection to the nonsensical words that she's often matches mine.

Like a lot of kiddos, she also loves photos of herself. So I thought it would be fun to combine the two and used Pinhole Press to create a simple "favorite things book."

Their template makes it super easy. The only thing I had to do was upload my 12 photos (plus a cover photo) and then add on the word for the left page. The colors and font were set which was fun (and made decision making that much simpler).

Originally I thought I'd take photos of her current "favorites" on white paper but then decided it was going to more interesting if I used "real-time" photos of her with the objects. All of these photos are just from my iPhone in the past six months or so and all were processed with VSCOcam.

What I didn't anticipate about using the "real" photos is that there would be so much more to point out. Like on the water page, she also likes to point to her "tattoo!" or on the bubble page she can show me her "boots!" It's pretty cute (and so simple!). We are enjoying it and I love having this little time capsule.

Like everything I've ordered from Pinhole over the years, the quality is great. Thick, sturdy pages (I went with the matte print option) for little hands, beautiful color and clear photos.

I reached out to Pinhole Press and they were kindly willing to offer a promo code for my readers. If you're interested in making a photobook for kids (anything from this page) you can save 20% through August 14th with code "elise". So fun.

heads up: this post is not sponsored but links are affiliate.
new favorite.
Stop me if I've said this before (just kidding, I have said it 600 times) but I've got a new favorite family keepsake.

Somehow a year has passed since I started that.

Somehow twelve months have gone by and each one is captured in five side-by-side photos of mama & toddler favorites.

This was a fun and easy project and something I never worried too much about. Usually, I was in need of a blog post and glad to see that I hadn't yet documented E&e. I usually ran a quick mental checklist of what we'd been doing the past week and that was what made the photos.

I took the photos on white poster board. And when Ellerie colored on my poster board, I used white cardboard.

It was far from scientific, but it was simple.

I had planned all along to make a book of the images and so each month, I was sure to save high-res, edited images. (I even got fancy and had a whole file devoted to this on my computer.) I am so grateful that I had this bit of foresight. If not, amidst all my "real work" projects right now this never would have made the top of the to-do list.

I decided to print with Artifact Uprising because they were running a 10% off Father's Day sale (Happy Father's Day, Paul!) and because I have loved them in the past. I went with their vertical hardcover photobook in goldenrod yellow. I wasn't concerned at all with the cover and so I picked the half wrap which (let's be honest) most likely will get discarded in the decades that follow.

Whenever I share a photobook project like this I get questions about why I go with one brand over the other and the answer is . it doesn't matter to me. I don't worry about it, I don't compare and contrast, I just pick one based on the book size I am looking for and get to work. 100% of the time, no matter what the brand, I am pleased.

AND MAN AM I PLEASED.

This book exceeded my expectations. To keep things simple, I left out all words, aside from a few at the beginning. (Which in classic Elise fashion I screwed up and wrote the wrong dates. To fix this error, I crossed out and hand wrote and then added "The E&e Project" to make it look deliberate.) I included every single "item" photo but I left out the photos of Ellerie and I because those were not really the point.

The result is a super visual, time capsule of our lives. This is the sort of thing I will page through decades from now. This is the sort of thing I hope Ellerie will page through decades from now. This is the sort of thing that I really hope my grand babies will page through a century from now.

Like I said, I've got a new favorite.

this post is not sponsored (either in cash or product), but links throughout are affiliate which means if you order something through Artifact Uprising after clicking through this post I will receive a small commission.
rainbow thank you cards (& a free download!).
Last weekend, Ellerie spotted her watercolor paints up in her closet and wanted to paint. I got everything set up, strapped her into her highchair and prepared myself for the five minutes of "coloring" before she was splashing in the water and declaring herself "all done!"

And after my usual activity of writing out potential baby names for #2 (the boy name is set! the girl name TBD!), I wrote "thank you." And loved the look enough to repeat it in rainbow colors.

Sidenote : this brush set from Ikea is so great. I use that pointy one for handwriting with watercolor and am always so pleased.

I realized quickly that this will be perfect graphic in case we do get gifts at Ellerie's big rainbow bash at the end of the month. I took a photo of the words with my iPhone and worked a bit of magic in PSE (basically just boosting the color and completely white-ing out the background) and printed them on textured cardstock. They turned out so cute I figured I'd offer them up here as a free download. Consider this a MAKE&GIVE30 project.
My name is Elise Blaha Cripe. I live in San Diego, California with my husband and our two young daughters.

I make stuff like it's my job.

In 2015 I launched GET TO WORK BOOK ® , a daily planner + goal-setting journal. For almost ten years, this blog was where I shared (daily!) general life musings, insight into being a small business owner and the occasional craft project. In 2019, I have started sharing more here on occasion. I have closed comments, but feel free to email me at elise[@]gettoworkbook.com if you have any questions about a post you see here.

If you're new here, I invite you to browse the archives, read my small business story or start with some of my favorite things to write about, DIY home decor & goal-setting. You can also listen to my motivational speech about the power of making bold statements.

Still looking for more content? Subscribe to my weekly creative podcast, ELISE GETS CRAFTY.

Thank you so much for dropping by.
ELISE JOY INC will use the information you prov >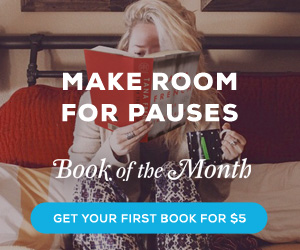 Profile photo at top right by Cortnee Brown.

This website uses Google Analytics to learn more about where visitors to the site come from and how they browse the shop. Through google analytics the following information may be collected: IP address, date and time website was visited, type of browser and device used, pages visited and what site brought you here. This data is sent to Google and helps Elise Joy Inc learn more about our customer base, improve engagement and ideally help serve you better. Google Analytics is used by many websites. If you would like to "opt-out" of providing your data to websites, Google has created a Google Analytics Opt-out Broswer Add-on.

Unless otherwise stated, all words and photos on this blog are my own. If you use a photo, please link back to this site to provide credit. Under no circumstances, should the text of this blog be copied and re-posted elsewhere unless you have permission from me to do so. Since I no longer post frequently to this blog, I have closed comments. You can always get in touch via email elise AT gettoworkbook.com

This is a for profit blog. I use affiliate links for shops and products that I love on the sidebars and in posts as well as on my other social media sites (like Pinterest and twitter). If you purchase a product through an affiliate link, I receive a small commission. Occasionally I will receive products free of charge or be paid to share about products and services here. This will be clearly noted and please know that when I am writing about something the words and opinions expressed are always my own.

]]>
<![CDATA[elise blaha, blog, scrapbooking, art, enjoy it, elise joy, crafts, diy decor, project life, elise blaha cripe, diy]]>

Artifact uprising promo code



SOURCE: http://eliseblaha.typepad.com/golden/paper-projects/